Craig Ruetzel MD
I believe in treating each patient as I would like to be treated. I am very passionate about patient education as without it, it is very difficult for a woman to decide what is best for her. I enjoy taking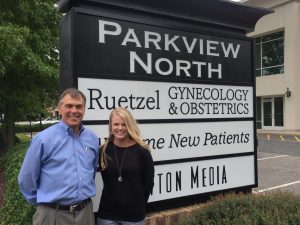 the time to explain even complex medical conditions or options in understandable and relatable terms. Each patient is to be treated as an individual, and what is the right solution for her may not be best for another patient. This individuality requires that time be taken to get to know each patient and to understand her concerns.
I have practiced in the area since finishing my residency and coming to Virginia Beach in 1992. I am proud to have been a founding member of Mid-Atlantic Women's Care and having been with Complete Women's Care for more than 20 years. But now I have finally accomplished a long time dream: having my own small office where I can provide care to patients in the way I believe is best.
Education
Duke University Durham, NC BS Zoology and Psychology 1982
University of Texas Health Science Center San Antonio, TX MD 1988
Wake Forest Baptist Medical Center, Winston-Salem, NC Residency 1988-1992
Board Certification 1994 with ongoing recertification American Board of Obstetrics and Gynecology.
Professional Recognition
I have served as Chairman of the Obstetrics and Gynecology department at both Sentara Bayside Hospital and Sentara Virginia Beach General Hospital, where I was also President of the Medical Staff.
Bethanie Nice, FNP-C
I truly enjoy women's health and am completely fascinated with pregnancy and childbirth.  When I was a teenager, I saw a Nurse Practitioner at my pediatrician's office and loved her so much; I knew that's what I wanted to be when I grew up.  My passion originated during a clinical experience in high school in a labor and delivery unit when I was in training to become a Certified Nursing Assistant, and then continued while working as a Labor and Delivery Nurse right out of nursing school.
As a Nurse Practitioner, I've had some amazing opportunities and experiences that have really fulfilled me professionally including caring for women at a pro-life and crisis pregnancy health center and working at a prenatal clinic for an underserved population. I really value education and believe in empowering patients to be advocates of their own health and wellness. Educating patients and providing compassionate, evidence-based care are just a few of the best parts of my dream job, and I'm so happy to be at Ruetzel Gynecology & Obstetrics. My husband, 3 kids, and I moved here from San Diego, CA, where we lived for almost 7 years. I look forward to getting to know my patients and their families and building trusting relationships with them.
Education
Lake Land College, Mattoon, IL Associate's Degree in Nursing
Indiana State University, Terre Haute, IN Bachelor's of Science in Nursing
George Washington University, Washington, D.C. Master's of Science in Nursing, Family Nurse Practitioner
Certification
American Association of Nurse Practitioners